Discussion Starter
·
#1
·
Since G43 magazine extensions has been a popular topic lately and I already had the camera out, I thought I would show the Pearce +1 extension compared to the Glock factory baseplates along with a very brief review.
For the sake of disclosure - I am already a fan of Pearce mag extensions and have used them for many years on my G26 and more recently on the G42 and G43. I like Pearce's quality and they have always been reliable for me.
The quality is what I expect from Pearce, they fit perfect and match the texture and contour of the G43 perfectly. I noticed with my G42 extensions the top lip is a little sharp, it blends so well with the pistol that it's not an issue. However the G43 extensions have a smoother feel to the ledge. Taking the factory base plates off the G43 single stack mags is a bit more difficult than the double stack mags. This is due to the more narrow spring, the tool wants to slip to the side when trying to leverage it forward. It just takes a little more attention to keep the tool on the front of the spring while prying forward.
Glock ships the G43 with a standard magazine that sits flush with the bottom of the gun and a magazine with an extended baseplate which gives a rest for the pinky but does not add additional rounds. Here are the measurements for each:
Glock Standard = 3.37"
Glock Extended baseplate = 3.83"
Pearce +1 = 3.92
The only difference in size between the Glock extended baseplate and the Pearce was a small lip added by pearce to provide a better contor for the finger. For me, this lip does make the pistol more comfortable to grip and control. The extra round could easily be housed in the Glock extended baseplate had they decided to do so.
Glock Standard Baseplate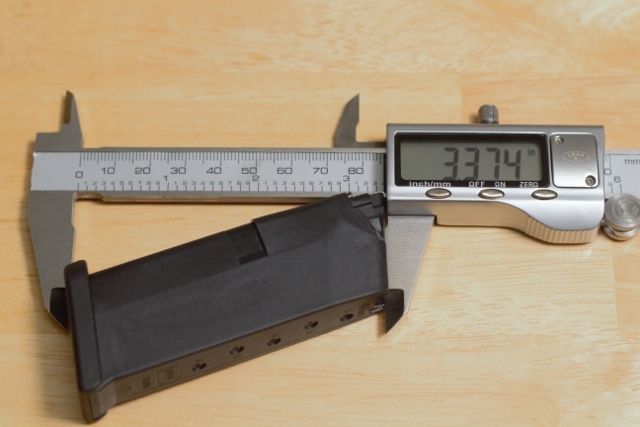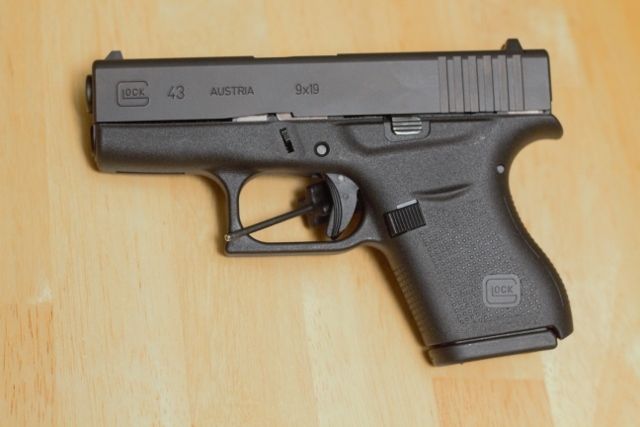 Glock Extended Baseplate
Pearce +1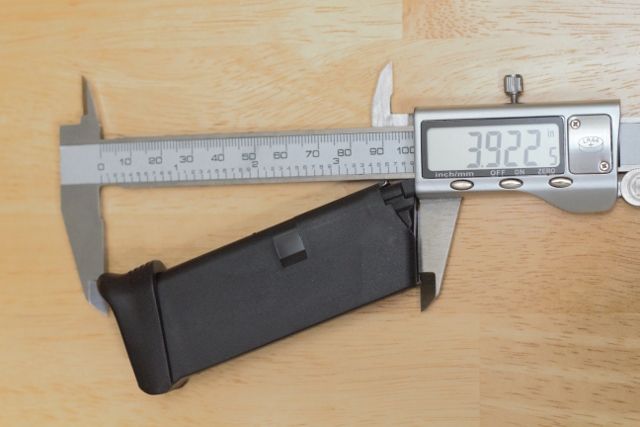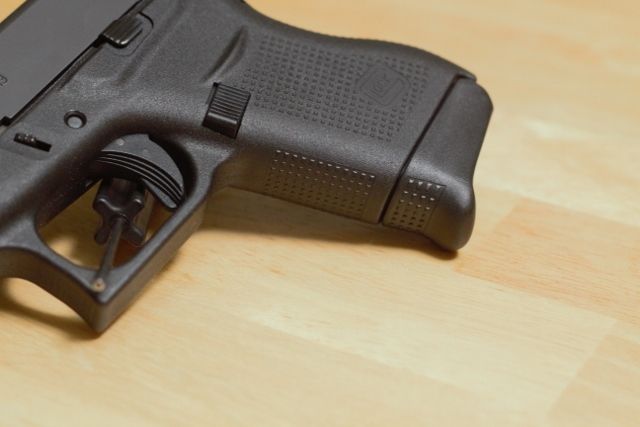 As you can see the Pearce +1 extensions add minimal length to the magazines and gun. They definitely take advantage of the extra space already in the G43 mag and only added the minimum needed to get the 7th round in. The last round is plenty snug in fit but it does go in without issue. I recommend the Pearce +1 extensions for anyone wanting to add an additional round to their G43. Hope this helps.
I've not had any interest in the +2 extensions, but if anyone has one and would like to add a similar measurement photo like the ones above, it would be a very welcomed addition!