This is a post on the Mosin-Nagant 1891/30 rifle, from Mother Russia. Designed in 1889 by a Russian named Sergei Ivanovich Mosin, with contributions by Belgian Léon Nagant, versions of this rifle were widely used by the Imperial Russian Army in WWI, then by the Red Army in the Russo-Finnish War and WWII. The designation "1891/30" is used to identify a 1930 modernization of the original 1891 model.
There is a good deal of written information on this rifle if you are curious: Wikipedia (
Mosin?Nagant - Wikipedia, the free encyclopedia
) and 7.62x54r.net (
7.62x54r.net
).
What led me to this rifle was gloomy weather, primarily. I was looking for a project to keep me occupied for a while in the winter, and I didn't want to spend much money. I expected to get a "project gun" that I would clean up, and then probably hang it on the wall without ever firing it. A sale at Cabela's got my attention, and after a visit to their racks of "Mosins" (over 40 in all), I bought one made in 1937 at the Tula Arms Plant, which was founded by Czar Peter I of Russia in 1712.
Here is a link to a very good photo of a rifle of this type:
http://7.62x54r.net/MosinID/0003.jpg
. Mine looked something like that one when I got it home.
Chambered in 7.62x54R (
R
is for "rimmed"), the Mosin-Nagant has an internal magazine that holds five rounds fed from a stripper clip, although it can easily be hand-loaded. The ammunition is held in a vertical stack, not staggered like the Mauser, so the magazine protrudes from the bottom of the stock, giving the Mosin-Nagant a distinct profile.
The finish on metal parts is "utilitarian": where it made sense to have a smooth polished finish (bolt, receiver interior parts, rear sight, trigger) it is smooth. In almost every other place it shows machining marks. Since my rifle was made before the onset of WWII, the finish is somewhat better than examples I have seen made after 1941, when urgency required faster production. Polishing it to improve the appearance would be to deny some of its heritage, so I left the metal largely untouched, with the exception of the removal of grease and rust, as well as touching up some blueing.
Since I have no way of knowing if the original importer or Cabela's ever inspected the rifle for wear or safety, I have some headspace gauges on order which I will use to check it before firing the rifle. "Trust, but verify", in the words of an old Russian proverb.
Commercial ammunition is available, so I'm looking forward to taking the rifle to the range after the headspace is checked. I have seen one of these fired at my gun club, and it is a sight to behold: it's very loud, producing what I can only call a "truly impressive" muzzle flash. Where it puts the bullets on the target remains to be seen, but that will be covered in a subsequent post in this thread.
The quickie restoration project took about a week, much of which was spent waiting for multiple coats of the stock finish to dry.
The original shellac stock finish was well worn: scratched, dented, and peeling, in need of cosmetic repair. The bore, heavily coated with cosmoline, was hard to assess in the store. How would it clean up? Is there rust in there? Is there a lot of copper fouling? Is it completely shot out? There wasn't much rust on other parts of the rifle, so I was hopeful.
After several lengthy sessions with patches, bronze brushes, and
Hoppe's No. 9
, then finally with more aggressive bore cleaners (
Sweet's 7.62
and
Butch's Bore Shine
™), I'm still getting blue copper stains on the patches after letting the bore "soak" with solvent containing ammonia. I will probably continue to try to clean the bore as long as I own the rifle.
The rifling is in decent shape: there are no sharp edges on the lands, but the grooves are uniformly deep, reasonably bright, and there's zero pitting. The owner(s) cleaned it, but copper fouling from shooting has built up on the rifling. Judging from the manufacturing date on the rifle, it's reasonable to assume that it could have seen service throughout the
Winter War
with Finland in 1939-1940 as well as the
Great Patriotic War
with Germany from 1941 to 1945. Some wear is to be expected, I suppose.
What puzzled me was that the stock really looked to be in better overall shape than the bore. Research taught me that many if not most of these rifles were arsenal-reconditioned after service and prior to storage, not an unusual practice for military arms. So, it's one of millions, with a replacement stock and some other parts as well, no doubt.
To prepare the birch stock for a new finish I took the commercial route: a local wood-stripping company did a perfectly fine job for the grand total of $25. Since the original shellac was a reddish color, I used a red stain to get the color about right, and then for a nice shiny finish I used polyurethane to finish the stock. Now, this is not "correct", I realize that, but I wanted a showpiece and not necessarily a correctly restored rifle.
To highlight the markings on the receiver, the first order of business was to carefully sand part of the receiver just enough to clean it up. Then I used touch-up blueing solution to put the color back, as well as some touch up on parts like the barrel near the muzzle, the nose cap, and the exposed ends of the recoil lug. The final touch was to rub white crayon into the markings on the receiver that showed the serial number, year of manufacture, and the Tula factory identification.
Without further wordiness, here are the photos.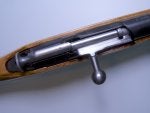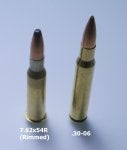 Chris