My local range started a GSSF Indoor style match for those who don't own Glocks. The participation is a fraction of the Glock matches but they have a random drawing for a free annual membership and that has real value.
You could use a Glock but after years of hearing people talk about Glock's having crappy triggers I thought I might as well add something "better" to the arsenal. Lacking a lot of pistol experience beyond Glocks I read forums and checked out what other ppl were using and decided on the CZ Shadow2 Optics Ready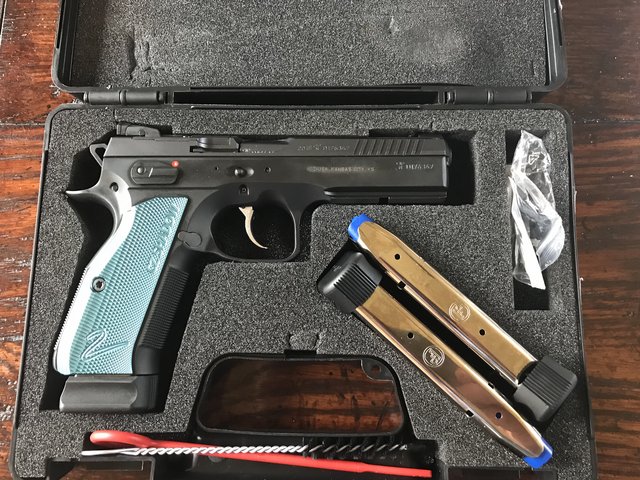 It's only been to the range once so far. I was expecting all kinds of crazy awesomeness. To be honest I was kinda "ehh" about it (especially for the price). I had my stock 17L and modified 17c with me and I shot tighter groups with both of them than I did with the Shadow2.
In single action the CZ trigger is 3.75lbs compared to the double action only 4.5lbs in the 17L. There's basically no wall/break with the CZ. It's a very light and smooth pull. I have always felt the issue people have with the Glock trigger was that they weren't used to it, now I'm absolutely convinced. It's not that one is actually better than the other, they're just different. The Glock is almost 2nd nature for me and it became clear quickly that there's nothing magical about the CZ, I'm going to have to train to learn it.
Same is true regarding the weight. My muscle memory is set for a much lighter Glock and I was very sloppy getting the heavier CZ back on target quickly. More training.
There's a part of me that wants to just sell the gun and buy a bunch more Glocks with the money (that may still happen) but the logical side says I will be a better shooter by learning to handle more firearms.
I don't know, some of you guys have CZs, there used to be a small fan club of CZs here. What do you think?
Sent from my iPhone using Tapatalk